Newsletters are provided by date of Publication below. They are in PDF format and require Adobe Reader, available for free from www.adobe.com.
View just like a magazine in Adobe Reeder: 
After opening the .pdf file; Click on View > then Page Display > then two page view or two page scrolling view and enjoy your e-magazine.
Downloads:
Tree of life newsletter October 2017
Biblical Roots

Tree of Life in Yeshua

The Appointed Times of God's Calendar

Feast of Trumpets; 10 days of Awe; Yom Kipper; Shukkot

The Declaration of Independence: Have you read it?
Archaeology

The Tabernacle, Ark, and Alter

CSCI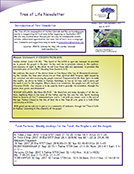 Newsletter: Tree of Life September 2017
The Feast Days and Appointed Times of God.
Astronomy, Historic and future Events. The Eclipses of Aug. 21 and of April 2024 and signs in the heavens never seen before concerning the prophecies of Revelation 12.
Bible Prophecy News.
History Corner
CSCI: Can the Real Lucy Stand Up to Science? A look at the so called missing link.