Fran's Challah for a great Shabbat.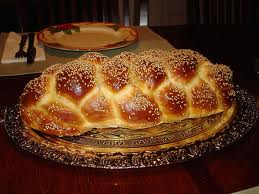 Yield: 2 small Challahs  
1 tablespoons dry yeast
1/4 cup warm water
1 teaspoon sugar

 
Combine yeast, 1/4 cup of warm water, and 1 teaspoon sugar in a small bowl or in a 2 cup glass measuring bowl.

This will begin to foam up almost immediately.  This process activates the yeast.  This is also a great way to test your yeast to make sure it is still good.

 
3/4 cups boiling water
1/4  cup butter, softened
1 – 1/2 teaspoons salt
½ cup sugar
1 egg (large)
3 –1/2 cups flour

 
Place butter in a bowl, pour in boiling water, and mix until the butter has melted.
Add salt and sugar, let cool.
Add eggs, mix well, and then add the yeast mixture from above.
Gradually add the flour
Knead for about 10 minutes.  Adjust with extra flour or a little water.

Too dry: will not stick together.
Too wet: sticks to your hands.

Brush the dough with a little oil, cover with a kitchen towel

Let dough rise in a warm place for 1 hour.
115 degrees Fahrenheit.
Dough will double in size (it is finished if doubled).
Separate the Challah into two equal parts.
Make braids from each part (see Braiding) and make into two loaves.
Place them on a flat pan and let them rise for 1 hour (warm place same as above.)
Pre-heat oven to 350 degrees F. (Do NOT put the rising dough in the oven.)

 
1 egg, beaten
Poppy seeds (or sesame seeds) or both.

 
Brush the loaves with the beaten egg.
Sprinkle with poppy seeds or sesame seeds.
Bake for approximately 40 minutes or until golden brown.
Let cool on cooling rack.
HOME          LOCATION & EVENTS          ABOUT US          FEASTS/APPOINTED TIMES          TITHES/OFFERINGS & DONATIONS          TOPICAL REFERENCE          RECIPES