We have just published our first book:
Currently in ebook format.
Have you ever wondered why there is a rift between the Jewish and Gentile nations? Have you wondered what your role is as a believer in the Messiah Yeshua?
This book answers questions.
This teaching provides an explanation and a history of how a rift formed between the people chosen by God to deliver His message and the people who received that message. It is a lesson of human nature. It is a lesson of God's plan for humanity, it provides understanding of how and why the Messianic Community is a 'bridge' between Jew and Gentile, between the church and the Word of God through Yeshua Ha-Mashiach, Jesus The-Messiah.
The knowledge of Messiah originates in the Tanakh, known as the Old Testament. Understanding and further clarification is provided through the New Testament. Most people have never learned that the New Testament contains thousands of quotations which originated in the Old Testament. The traditional Christian Church has distanced itself from the Jewish foundation of God's Word. This separation has led to many problems over the centuries. This book explains the history that caused this separation. It also shows how God is reaching people around the world with the biblical roots of His Word.
You will be amazed at the information God is bringing to light. I pray God uses this work to teach and to open up the knowledge of His Kingdom.
About 50 pages of reading; 60 citations.
Our latest newsletter is going to print and available here for your learning and enjoyment. We pray for Yehovah to pour out his love and grace on your life, and to make you the man or woman of God he truly wants you to be.
Appointed Times of God's Calendar: Fall Feasts
History and Declaration of Independence
Archaeology: Tabernacle, Ark and Alter
All Creation Testifies: Wonder of the Cell
We are pleased to be presenting to you our first monthly newsletter. This addition includes some basic Information from Tree of Life In Yeshua such as our Mission Statement and Statement of faith. It also includes some very interesting articles we think you will really enjoy and find informative.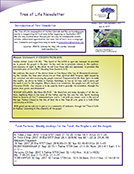 The Feast Days and Appointed Times of God.
Astronomy, Historic and future Events. The Eclipses of Aug. 21 and of April 2024 and signs in the heavens never seen before concerning the prophecies of Revelation 12.
Bible Prophecy News.
History Corner
CSCI: Can the Real Lucy Stand Up to Science? A look at the so called missing link.